MotoSurf WorldCup concluded qualifying sessions in St. Petersburg
Vencovský strongest in Russian cold
Jetsurf Florida rider Petr Fox Vencovsky found fastest pace in tough Friday qualifying. Posting 52.61 was enough to build a 1.44 seconds gap over Jan Drkoš. Fox scored his first ever qualifying victory for himself and Jetsurf USA squad.
Hard Bike's Jan Drkoš is a rookie to the Championship and already managed to finish 2nd in Russian round qualifying. Lukáš Záhorský stopped the clock on 54.55 which means 3rd for the reigning WorldCup Champion.
His team mate Michal Lošťák was 4th fastest showing very consistent performance as always and Sebastian Kubinec – 2nd rider of the current standings closed the top 5.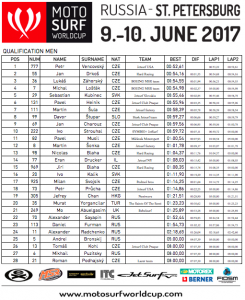 Šacherová quickest girl
Aneta Šacherová started rainy programme very well. Wavy Neva made the course very difficult to ride but Aneta went her ride for domination. She managed to fly over the course at the time of 1:05.15 what secured a comfortable gap to win the qualifying for Saint Petersburg MotoSurf WorldCup Race.
Jetsurf USA Team seems to have a really good weekend so far. Ale Rivas riding under their flag found back her speed and finished 2nd behind Aneta. Likeable Mexican character struggled little bit in the season opener so it's great to see her mean business again.
For the first time in her jetsurfing career, Martina Lukscheider from Prague Jetsurf Club succeeded to squeeze into the top three. The Jetsurf Academy coach perfectly used her jetsurfing knowledge and will attack the top spots from 3rd. 
WorldCup contender Martina Bravencová experienced a difficult start to Russian round. Mistake in the qualifying forced her to DNF and she will have to fight hard in the heats.