Abu Dhabi is ready to start the finals on Saturday
Abu Dhabi has become the riders favorite destination for the MSWC, the first stop of the 2019 season is taking place at the Abu Dhabi international marine sports club in beautiful Corniche Beach.
The weekend began with a total number of 35 riders in the men class and 10 female riders, the qualifying  round was a huge surprise as 101 Underdog Rider  Vít Limr took the fastest qualifying lap to secure his premiere pole position. Martina Bravencová opened the season in style leading the women class qualifying in front of her last year's biggest rival Aneta Šacherová.
On Friday, the first heats of the season took place and the racing was super intense around the course. Last year's champion Lukáš Záhorský who was unlucky in the qualifying, dominated all his heats to grab the current lead. Coming after neck fracture, Martin Šula was really strong with solid second position. Young gun Filip Sihelský from Slovakia managed to build his fast pace and surprised the class coming in 3rd place.
In the Women class, the two rivals led the 3 heats – Aneta Šacherová and Martina Bravencová swapped positions and Aneta closed the day on top. Martina was second followed by Klára Sitarová charging for second carrier podium. Anya Colley from JETSURF Factory Team has been looking great since the beginning of the weekend but unfortunately crashed in one of the heats leaving her in the 4th position.
Lukáš Záhorský: "After yesterday qualifying, I thought it wasn't the best start of the season. I just couldn't put the ideal lap together. However, I am very satisfied with my performance today, so I'm really looking forward to race again tomorrow and hopefully, I can start the year victorious."
Aneta Šacherová: "It's typical for me that I never make miracles in the qualifying. Altough in the heats I somehow managed to control each round which I am happy about because this will give me a chance to lead all the heats tomorrow and hopefully the final as well"
Men Class results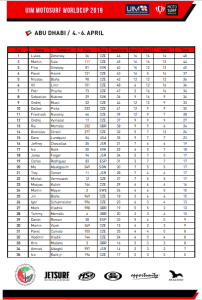 Women class results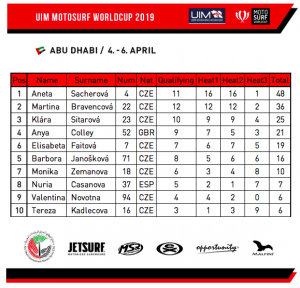 *results are now provisional and under review