ADAC BERLIN BRANDENBURG TO TITLE PARTNER MOTOSURF GP OF GERMANY
MotoSurf World Championship will start its 2023 campaign in two months time and for the first time ever, the world's ultimate MotoSurf Championship will start its campaign at a brand new venue – Berlin, Germany.
The Regattastrecke Grünau is a race field in the South-East of Berlin. The venue has been connected to the world of sports for decades as the first official sailing regatta took place in 1868 and the first rowing regatta on the course took place in 1880. It was also the venue for the rowing and canoeing competitions of the 1936 Olympic Games. In the recent history, the venue hosted many powerboating competitions – older brothers of motosurf. MotoSurf World Championship, member of the UIM and IOC (International Olympic Committee), will build up on the sport legacy of the Regattastrecke and will commence the five stops 2023 campaing in the German capital.
Alongside the famous venue, MotoSurf will be accompanied by the largest European autoclub – ADAC. The ADAC Berlin–Brandenburg has been involved in organizing many prestigious motorsport events including Formula – E, Motocross, DTM and various powerboating races. The cooperation between the MotoSurf World Championship and ADAC (Berlin– Brandenburg) became official after General Assembly meeting on 25th of March after agreement between ADAC Berlin-Brandenburg Head of Motorsport department Janko Garbsch, his deputy Antonia Mandel, MotoSurf World Championship director Martin Jancalek and JETSURF Germany CEO Angelo Mennillo. The cooperation resulted of proved concept with organizing the European Cup and now heading to the highest level of MotoSurf racing in 2023 season. During the weekend of 26th – 28th May, the MotoSurf ADAC GP of Germany will waters of the River Dahme in Kopenick.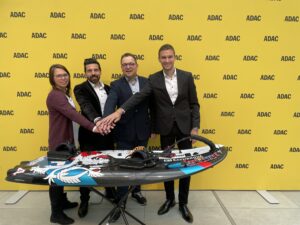 The Championship schedules three days weekend program having free practices and qualifyings on Friday, Heats on Saturday forming the best 12 riders for finals on Sunday. The MotoSurf ADAC GP of Germany expects international participation of riders from over 20 countries representing Europe, Asia and America. The weekend will offer races men, women, juniors and fully electric boards. The event will be free of charge for spectators that can enjoy side program of exhibited racing cars from ADAC racing activities, electric skateboards from JETSURF and much more.