Anya Colley to make her MotoSurf WorldCup debut!
The MotoSurf Worldcup comes to its third round of the season and the series welcomes a special guest to the women class of motorized surfboards race. For the weekend at Wyboston Lakes in the United Kingdom, Jet Ski World Champion Anya Colley will join the business.
 The 23 year old racer is well known for her passion for absolutely everything with an engine. Doing pretty good in other motorsport disciplines like motocross, supermoto, go karting, Jetsurf is another field where she can use her wide sporting knowledge and abilities. Despite having just a short time for practising on her Jetsurf, Anya already looks in a great shape for the MotoSurf WorldCup race.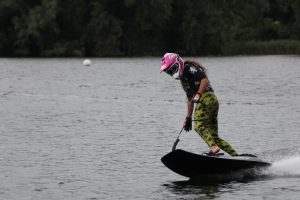 Anya Colley: I've only very recently been introduced to the sport of Jetsurfing by my sponsor so this will be a brand new experience for me. I think the sport is awesome!!! I'm extremely excited to have a wildcard for the UK race & can't wait to meet everyone this weekend at the MotoSurf WorldCup!