Captain Candy #brave MSWC Team celebrate double pole position in Wyboston
Captain Candy #brave MSWC Team celebrate double pole position in Wyboston
MotoSurf WorldCup arrived to the United Kingdom. Wyboston Lakes hosts the second round of the championship and Saturday's qualifying program saw domination of Captain Candy #brave MSWC Team.
Opening round winner Lukáš Záhorský found the best rythm in the qualifying and stole the show with Jakub Kornfeil. The two topguns from the Czech Republic were battling for the pole and it was Záhorský topping the time sheets eventually. The Captain Candy's Lukáš Záhorský was the only rider in the field making the British course under 57 seconds. His 56.929 was enough to build a 0.146 second advantage from reigning world champion Jakub Kornfeil. Known for great qualifying pace, Jan Drkoš performed really well in Wyboston for 3rd place after timed sessions.
The women competition went under control of Martina Bravencová. Defending title from last year, team mate to Lukáš Záhorský made it a super successful day for their squad. Martina was the only women stopping the clock under 1:02:00 and her laptime 1:01.181 remained undefeated. Aneta Šacherová was doing her best and finished second 1,1 second behind in 2nd. Solid qualifying round meant 3rd place Jetsurf Slovakia's Renata Kelemenová who returns into top three first time this season. Home girl Anya Colley from the Jetsurf Factory Team keeps rising her performance standards and secured respectable 4th place finish.
The race weekend continues tomorrow with Final rounds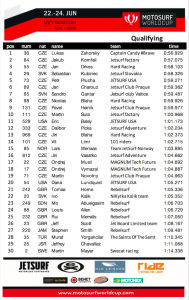 Men's qualifying results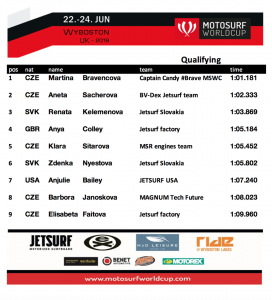 Women's qualifying results