Malfini First Lap Award Standings
First Lap Award is a brand new feature introduced to MotoSurf WorldCup 2019 race format. The challenge awards the fastest rider through the first lap of the finals in each class. The first ever first lap winner was Petr Průcha who opened the season with spectacular victory in AbuDhabi. However, Lukáš Záhorský has gathered two first lap points. The competition is still open as the rest of the field still can attack his position in the standings. 
In women's class, Aneta Šacherová has dominated the season and has collected 4 points so far. With one round to go in Orlando, there is still a potential chance for Klára Sitarová to equal Aneta's scoring and claim the overall trophy under her belt.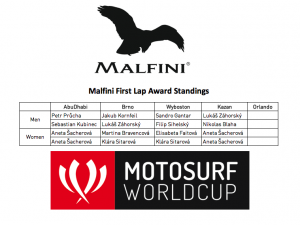 Men Class standings is till open, the closest competitor to Záhorský will be Kazan race winner Nikolas Blaha. However, Petr Průcha nor Filip Sihelský should never be ruled out.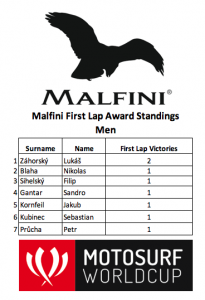 Aneta Šacherová leads the women's class current standings. Klára Sitarová remains the only rider in the class who can challenge the reigning World Champion.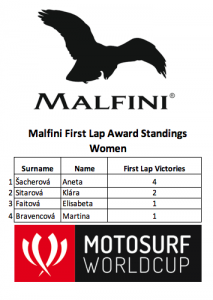 The next round and decider is coming up between Oct 18th – Oct 20th in Orlando, Florida, United States.