Martin Šula stole First Lap Award victory! Šacherová extended collection to 6.
MEN CLASS
Heading to the season closing stage in Orlando, Florida, it was Lukáš Záhorský having a match ball in First Lap Award trophy with two holeshots. Pontentially, there was a chance for anybody in the field to equal Záhorský's two winning laps. Nikolas Blaha was the closest one with one victory less. However, none of these guys eventually left Orlando crowned Malfini First Lap Award 2019 winner.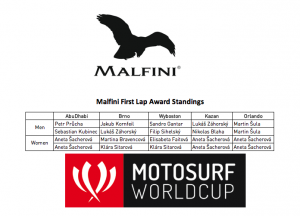 It was the man himself, Jetsurf creator Martin Šula, who found the best start reaction in the first final and repeating the same performance in the last final of the season. All riders and visitors witnessed a great surprise seeing proud 111% Moravian taking both trophies for overall victory in the classification.
Martin Šula established motorized surfing championship back in 2012. Most likely the only CEO in the world racing the craft he created in world stage championship, Šula hasn't missed even one race in 8 years history of the brand new water sport discipline.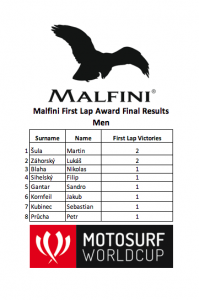 CONGRATULATIONS MARTIN ŠULA!
WOMEN CLASS
In women competition, Aneta Šacherová came to Orlando as First Lap Award leader with 4 holeshots under her belt. Klára Sitarová with two trophies was the only racer who could take over the classification in case of winning both finals shootouts.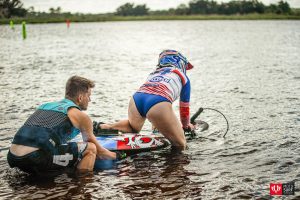 Mistake free Šacherová didn't miss her chance to become the first women taking the overall cup and remained undefeated in both of the women class finals. Aneta Šacherová extended the lead in the standings to six and became the women with most first lap victories of 2019 season.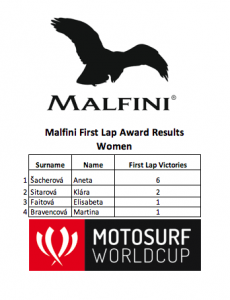 Likeable character from the Czech Republic made it complete for Mattech Racing dominating the UIM MotoSurf WorldCup 2019 championship and winning the Malfini First Lap Award trophy.
HATS OFF ANETA!