MOTOSURF ACADEMY LAUNCHED IN FUJAIRAH
At the event of the 95th UIM General Assembly in Fujairah, MotoSurf – the world's fastest growing powerboat discipline joined forces with the world's largest Youth Development Program facility at Fujairah International Marine Club (FIMC).
MotoSurf has been the latest discipline joining the structure of the UIM – world governing body for powerboating sport, member of the International Olympic Committee. Together with enormous and successful efforts of Managing Director of Fujairah International Major Ahmed Ebrahim Alblooshi who created a platform for support, development and encouragement of young talents.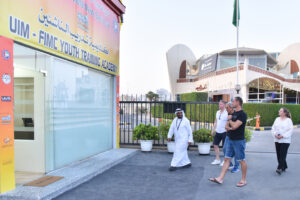 Witnessed by the UIM President Dr. Raffaele Chiulli, Jetsurf Founder & MotoSurf Committee Chairmain Martin Šula and MotoSurf World Championship Director Martin Jančálek, the platform for MotoSurf discipline was launched at the facility of the Marine Club in Fujairah in front of the Youth Fujairah Team that is an example organization in the world of Formula Future Racing.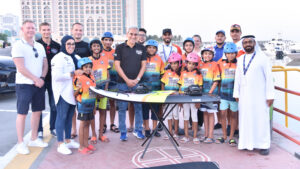 After handover of two motorized surfboards presented by Martin Šula – JETSURF MOTORIZED SURFBOARD owner, the whole Fujairah Team was trained by UIM MotoSurf World Champions Aneta Sacherova and Lukas Zahorsky.
The objective of the cooperation is to offer the young athletes from the whole UAE a possibility to practice a new, and very fast growing discipline. "The MotoSurf World Championship has been very focused on working with young talents. What we can see here in Fujairah is an example of passion and sportive approach. We cannot wait to work on developing Emirati talents and seeing them racing on the highest level in the future" Martin Jancalek added.
"We love this sport. In Fujairah, we have a long history of youth development program and MotoSurf is something what perfectly fits to our activities. I would like to thank the UIM and Youth Development Program and I cannot wait to extend the activities offered to our young sportsmen."
The official launch welcomed also creator of the whole sport and CEO of the Jetsurf Motorized Surfboard Mr. Martin Šula who said:"I am very proud that throughout the years, we were able to implement all the knowledge to create a sports craft that will fit to youngsters as well as the adults. Our sport started from a very small scale to become the world discipline. This would not be possible without young generation bringing fresh wind to our sport. On behalf of the world's number one manufacturer of motorized surfboards, I am all the way committed to help Youth Development Program and every activity leading to support sport of youth. "