World Cup concluded qualifyings and heats for the Prague race!
Women's class qualifying for Šacherová
Jetsurf Mexico's Ale Rivas was the first rider on the track to try her best within two laps. Likeable Mexican racer showed amazing performance, clean and fast ride with 50:42 seconds on the finish line. She was leading the way just until Czech rider Aneta Šacherová headed on the Vltava river in Prague's city center. Factory Team rider managed to push her best under fifty seconds per lap and 49.75 meant the second consecutive pole position for Šacherová. Top three was completed by Aneta's compatriot Tereza Tesaříková.
Kornfeil dominated the men's category
Slovakian race winner Lukáš Záhorský set the fastest lap of 55.38 and led the men's qualifying standing. Championship leader Jakub Kornfeil made all the spectators completely speechless. His 53.63 remained undefeated and pretty well known number 84 concluded the qualifying session setting the pace. There was a big fight for 3rd spot. It was occupied by Ivo Strouhal who was relegated by 2015 multiple podium finisher Michal Lošťák and his 56.93. Jetsurf founder Martin Šula was another guy to change the current positions. Šula's 56.67 was enough to overtake Lošťák and took current third. However, Martin Šula didn't stay inside the top three for long. Jetsurf Prague Club's Jan Charouz lapped around the circuit within 56.48 and completed the top three positions.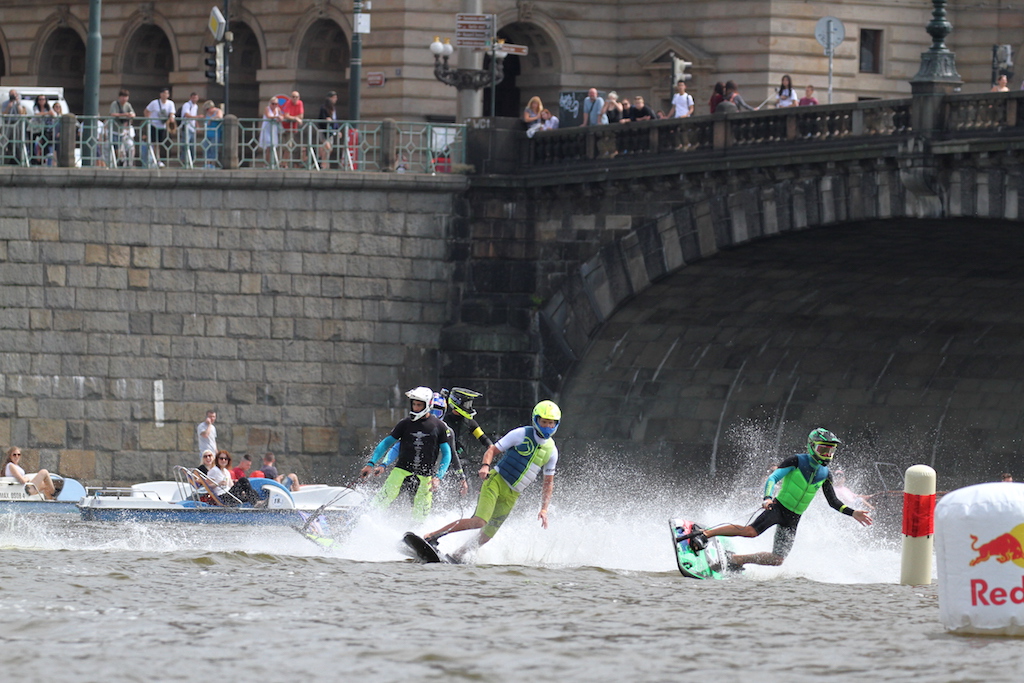 Men's Heats:
Jakub Kornfeil, Martin Šula and Jan Charouz dominated their heat groups scoring the victories in all of their rounds. Group D became very interesting becaue of a battle between Slovakian winner Lukáš Záhorský and Prague Jetsurf Club's rider Jan Vančura. Záhorský was the more successful in the end and finishes 4th after the heat rounds whilts Vančura concludes Saturday programme in 11th due to two 5th places in heats.
Having Kornfeil, Šula and Charouz tied on points, the spots for tomorrow's race start will be decided according to qualifying results. So it's Jakub Kornfeil on the top followed by the second fastest from the qualifying Lukáš Záhorský and third Jan Charouz. Martin Šula stays fourth despite 4 heats victories. Sebastian Kubinec from Slovakia is 5th in front of Michal Lošťák. Pavel Musil joins the Final A directly from 7th having won second heat of his group and the last rider who goes straightly to the final  round is Ivo Strouhal. 
The Final A line up will be completed by top four riders from Final B.
Jakub Kornfeil: "It's really cool to be racing at such a beautiful venue. Even more when I managed to win all the heat rounds as well as the qualifying. I feel very good about the track layout and my board so I hope for a good race tomorrow."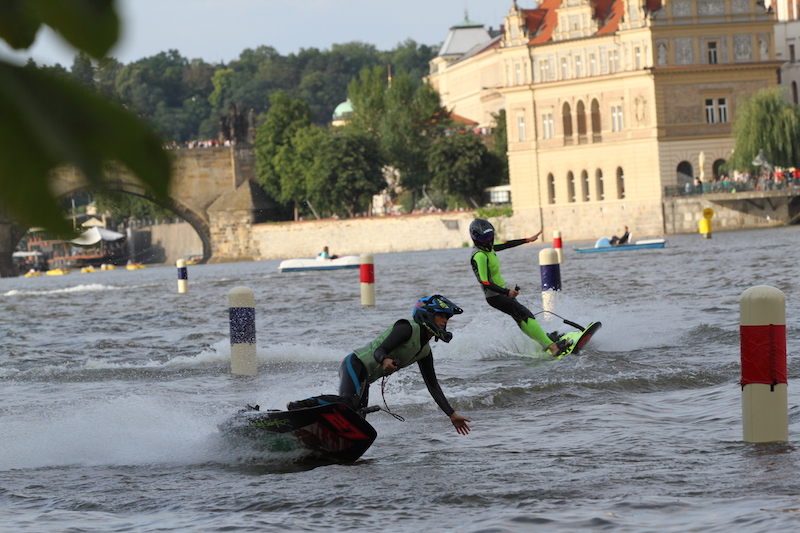 Women's heats:
Jetsurf factory rider Aneta Šacherová showed her dominance once again and finished 1st in all the heats so there is no doubt she will start from the pole on Sunday. Second position was taken by Renata Kelmanová from Slovakia who continues in a solid pace from her home round. Winner of Mexican round Ale Rivas concluded the heats in 3rd overally from Kristína Ševčíková and Martina Lukscheider. Wild card rider and a 10 times kite surfing World Champion Gisela Pulido finished 10th. 
Aneta Šacherová: "I'm so happy for today. I have my family support here in Prague which is great. I managed to win the qualifying session and all the heats what makes a good point where to start the race day."