MotoSurf WorldCup heading to last stop of the season
Motorized surfboards world series has already visited four racing venues and now stands ahead of the season final. The Championship began in Cancún, Mexico and after three European rounds, the WorldCup racers will return to a fly away destination.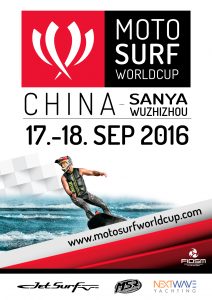 Wuzhizhou Island in China will be the venue of a big final that will deliver answers about the final standings that was modified by the race direction. Every rider's least points scoring event will not be counted. Anyways, Lukáš Záhorský will come to China as a leader with 122 points. Second is the 2015 World Champion Jakub Kornfeil whose 20 points difference from the lead will be a thing to beat. On the other hand, Jakub Kornfeil still needs to finish two strong races to defend his position from three speedsters behind him. Third place currently belongs to Martin Šula – scored 75 points so far. Motivated to finish inside the top three riders will be definitely Prague Jetsurf Club's rider Jan Charouz who is just three points behind Šula. We should never rule out Ivo Strouhal #222 in fifth with 65 points. The Jetsurf Factory rider Strouhal proved his speed in Holland where a technical issue cost him a podium.
Not just the permanent riders will join the competition. Wild card entries were granted also to several local riders for a chance to experience the World's highest level of motorized boards racing. The weekend of 17-18th September will belong to Jetsurf racing in China. The programme will start on Friday with free practices, Saturday will decide the starting grid positions in the qualifyings and the Champion will be crowned after two races on Sunday.