MOTOSURF WORLDCUP IS HEADING TO THE FINALS
Sugden Regional Park in Naples, Florida as it is formally known, hosts a variety of programs taking advantage of Lake Avalon, including sailing, kayaking, water skiing instruction and demonstrations, paddle boat rentals, and one of the only freshwater beaches in Collier County. After an astonishing racing premiere in 2017, the Sugden Lakes will again experience the taste of MotoSurf World Cup action. High paced racing on a buoy course on the lightest and fastest motorized carbon fiber surfboards will deliver the name of the 2018 Champions.
The race will be attended by 50 riders in the men class and 14 riders for the Women World Cup glory. Among the riders from 15 nations all around the world, it will be only two competaitors leaving the Park as 2018 World Champions. Captain Candy's Lukáš Záhorský is closest the title in the men's competition while BV-Dex Jetsurf Team's  Aneta Šacherová will be defending her leading from reigning champion Martina Bravencová.  JETSURF FACTORY TEAM is set to be the wild card making their World Cup debut against the topguns. Double World Superbike Champion & AMA Superbike Champion Troy Corser recently joined the team and after really hard preparations, the Australian known for his unique crocodile style dominating the fastest production bikes in the world, is ready to race. Second wild card slot has been granted to another two wheels master. MotoGP premiere class podium finisher and Yamaha MotoGP Team test rider – German Jonas Folger has used his JETSURF for body fitness and finally comes to gauge his performance against the world's fastest jetsurfers on the race course.
The race will kick off this year from November 2nd through 4th and will be co-organized by Jetsurf USA and the race governing body, the MotoSurf WorldCup.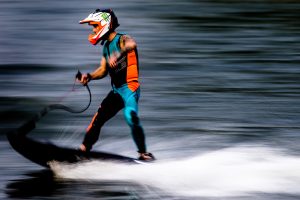 MotoGP rider Jonas Folger to make his MSWC debut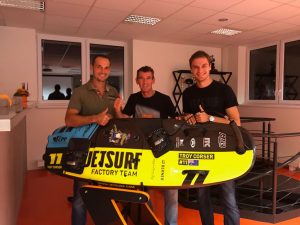 Double Superbike World Champion Troy Corser with his brand new JETSURF RACE TITANIUM BOARD