Speed from America in MotoSurf WorldCup
This September, the UIM MotoSurf WorldCup took us to the last racing location of the 2021 season in Zadar, Croatia. The attendance of competitors was at a historic all-time high, with over 98 riders from 12 countries arrived to compete in this spectacular sport. And amongst them, we welcomed newcomers that came to the WorldCup for their first time, to test and to compare their riding skills with one of the best racers in the world.
One of these greenhorns at the WorldCup was Ayrton Eboli, a promising young rider from Mexico. This 18 year old rider had his fair share of races in the MotoSurf ContinentalCup in America. He started off 3 years ago in the Challenger class category, which is a category where all the newcomers get together to fight for the championship. Throughout 3 races that season, he was able to fend off all his rivals and secure the Challenger Champion title in the American ContinentalCup. Now, he has moved up to the Stock category, meaning all boards and engines are identical and the only defining factor is the rider itself. Ayrton said: "The Stock category is great; I think it is a very fair race. This is my first time in this category and even though I am racing with one of the best, everyone has the same conditions and I enjoy it. MotoSurf America was a lot of fun, but this WorldCup is on another level. You can see that everyone has spent a lot of time training, they are very technical on the track and really fast. For this race, my goal is to get into finals and hopefully secure a Top 5 position. The qualifying was not the best, but I will fight for it." And fought he has, Ayrton managed to reach an incredible 4th position out of 22 riders, which could be considered as his personal best so far.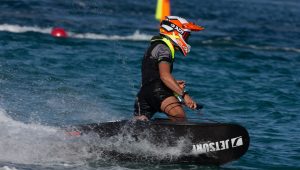 New faces also appeared in the Women category, where the competition was fiercer than ever before. An astonishing number of 20 female racers came to compete at the beautiful Falkensteiner camping area. A representative of USA and Mexico Alaia Flores came to Croatia after her first debut in Sebring, Florida, where she managed to beat 4 other girls and climbed to the 1st place, winning the American race of the 2021 season. Alia is not a novice when it comes to riding other types of boards. She is proficient in Kitesurfing and Wakeboarding and being the fastest woman in Mexico and USA on a Jetsurf, she was invited to participate in the MotoSurf of Nations in Barrancabermeja, Colombia, to compete 5 with other best female racers from around the world, finishing up at a respectable 3rd position. When we asked if she could describe her experience in the WorldCup, Alaia said: "There are fewer girl riders in the American cup, so coming here to Europe, the competition is very hard. Lot of the girls here have been racing for a long time and they have more experience than me. My goal is to place in the Top 10 this race and practice a lot for the next year's season of MotoSurf Cup. I would like to thank my parents who support me and who gave me this opportunity to participate in this amazing sport." Alaia was just one place off from her goal, reaching an 11th position in the race, which is still very admirable for her first appearance in the MotoSurf WorldCup.
Alaia Flores wasn't the only Flower in the racing field, as her younger sister and a rival Arantxa Flores also accompanied her to participate in the race. This is the first racing season for the 14 year old racer. Arantxa completed 3 races prior the Zadar WorldCup, finishing 2nd in Orlando. "I started Jetsurfing 7 months after my sister Alaia started, so you could say that she is my rival, because she is my sister, so there is a natural competition between us and I feel like I have to beat her", Arantxa laughed. "My goal this race is to get into finals this race, that would make me very happy." Arantxa competed with her sister in Sebring, where she came second, just one place off Alaia. " I enjoyed the competition in Sebring and Colombia, because there were fewer girls. Which is not the case here in Zadar, as there are many girls who are excellent racers, and I can't wait to practice more back home in Cancun for the 2022 season." Arantxa's wish came true, as she had finished 2 places ahead of her rival sister, getting 9th position in the MotoSurf WorldCup.
Let's wish all the A-Team (Alaia, Arantxa, Ayrton) all the best to all MotoSurf WorldCup races!