Premiere victory for Záhorský in dramatic Slovakian round
We could see a really close pace in yesterday's qualifying session. So it was on the race day and spectators enjoyed raceday full of dramatic moments and overtaking maneouvres. 
Race 1
It was Martin Šula who had an excellent start into the race and led the way from the early stages. Jetsurf founder Šula was followed by super consistent Lukáš Záhorský, who retook the first place afterwards. However, we can't rule out the championship leader Jakub Kornfeil who build his race up after a difficult start. Kornfeil got into the lead and won the race from Lukáš Záhorský and Martin Šula.
Race 2
Martin Šula's great starting reaction brought him another holeshot in race number two and was leading from Ivo "Stroužek" Strouhal who managed to overtake Šula and grabbed the lead. However, young talent Lukáš Záhorský succeeded to close the gap of the leading guys, went through the group and topped the second race to gain the overall victory. First race winner Jakub Kornfeil experienced a very tough race due to a crash just in the first corner after start. Putting all his efforts to get as many positions as possible was enough for only fifth place that put the championship leader to second place eventually. Ivo Strouhal fought hard with Matin Šula and Jan Charouz from Prague Jetsurf Club. The Prague based rider came third but stayed out of the podium because of the first race retirement. At the end, Martin Šula stepped on the third spot and scored his first podium finish of 2016 season.

MotoSurf WorldCup newcomers made a very successful debut. Sandro Gantar and Davor Štupar from Slovenia as well as Czech racers Robert Nešpor and Pavel Heiník joined the Cup's for the very first time and already held the pace of top ten riders – great job guys! 
Lukáš Záhorský: "I wasn't pleased with my qualifying result yesterday but having no regrets today. I made a consistent ride to take the first place overally. I really tried hard to stay on the board, avoid mistakes and it paid out. Big thanks to Jetsurf and other jetsurfers for a great competition today."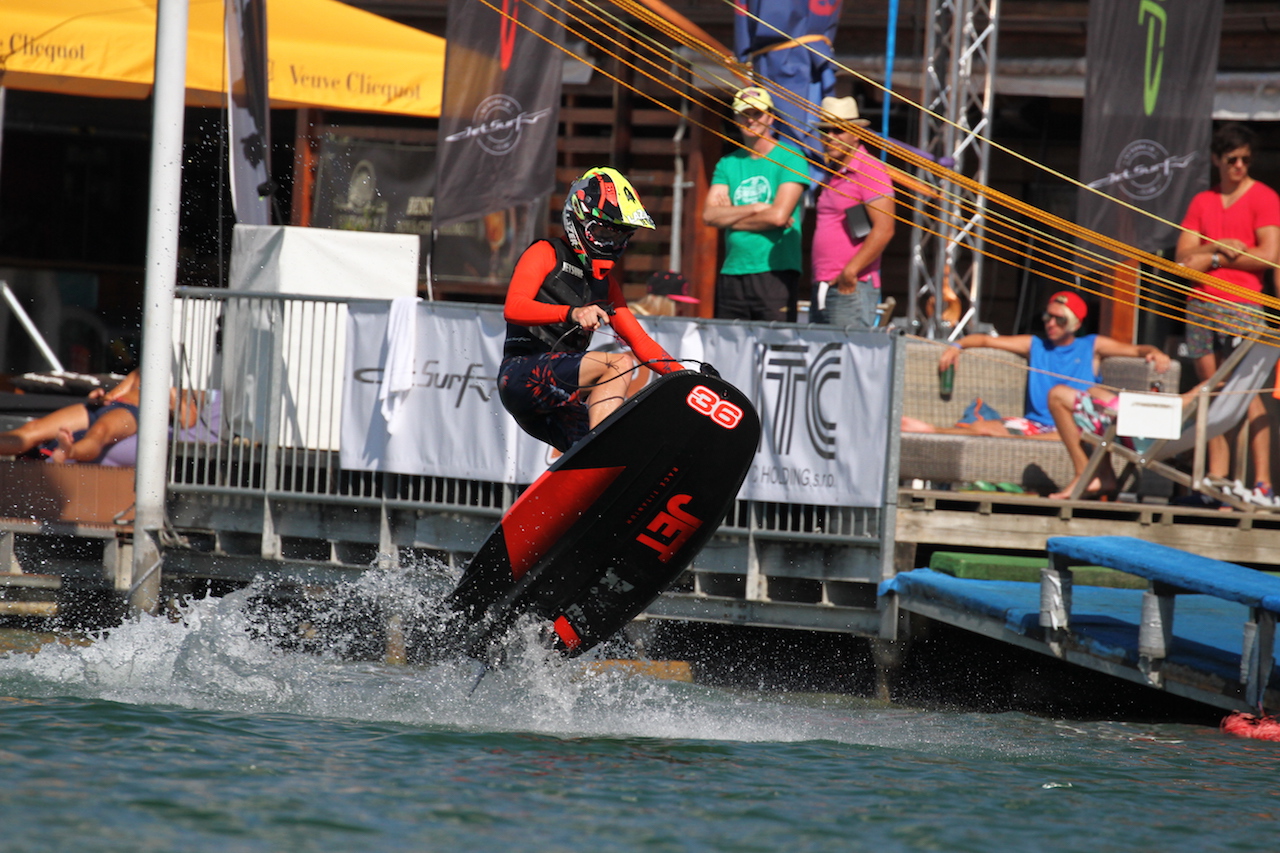 Aneta Šacherová claimed with a double victory
Ladies' class qualifying winner Aneta Šacherová raced in a great form on Sunday at Zlaté Piesky racing facility. She opened a very comfortable gap in both races to take a double victory. Mexico race winner Ale Rivas took two second places and became the second fastest female rider overally. Martina Bravencová and home rider Renata Kelmanová competed each other for the last spot on the podium. Bravencová was the more successful one at the end thanks to her consistent 3rd and 4th place finishes. Slovakian Renata Kelmanová made a very successful debut having scored 6th and 3rd. 
Aneta Šacherová: "I can't be any happier about the weekend. I felt very comfortable on the board and managed to do two strong races. I hope I will learn from this weekend and continue doing this job in the upcoming races as well."
The series continues next weekend in Prague City center at Střelecký ostrov.