Superb Záhorský completes the job while Šacherová retakes the crown!
The final round of MotoSurf World Cup headed to the State of Sunshine. Event took place in Sugden Regional Park, Naples Florida, in cooperation with JETSURF USA. It was 48 men racers and 14 women including the American wild card speedsters arrived to enjoy fighting between the buouys.
Qualifyings worked the best for Captain Candy #brave MSWC Team duo. Martina Bravencová won her timed session by a single ten of a second from Aneta Šacherová. In the men class, it was Lukáš Záhorský dominating the session being the only rider who squeezed his lap time under one minute.
Heats meant four rounds for each class and another option to score important points to the championship. It was all clear in the women class. Both Aneta Šacherová and Martina Bravencová dominated all their heats. Men class heats looked more like  big finals. Close battles and overtaking maneouvres board on board. Many riders used mainly the black buoy to benefit from the right tactics. In one of the heats, It was Jonas Folger – MotoGP racer and wild card rider to the MotoSurf WorldCup who managed to finish third. Unfortunatelly, Jonas' overall points were not quite enough to advance to the finals. We saw massive improvement also from the second motorcycle master and wild card entry holder Troy Corser who finished 31st overally.
Final B delivered four names to the big finals and these were Ondřej Musil, Mark Andrews, Eric Bailey and Filip Sihelský.
Coming to the finals, action on the track brought super intense racing. Especially in the men class where many riders held podium pace. Eventually, Lukáš Záhorský found the best rhythm and grabbed the overall victory, Sebastian Kubinec took second and Petr Průcha finally celebrates valuable podium finish.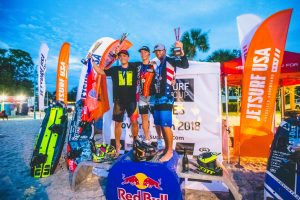 Women class battle went to Aneta Šacherová's pocket. She might have finished second in the qualifying, but stormed both the finals for the weekend glory. Martina Bravencová finished second and Anya Colley completed the podium repeating 3rd in Naples from last year.