Záhorský and Šacherová collect their WorldCup trophies
During the JetSurf dealers meeting 2016 held in Brno – hometown of Jetsurf, the MotoSurf WorldCup 2016 champion was officially crowned. The fans, all JetSurf dealers and many MotoSurf WorldCup riders saw the top three surfers receiving their trophies.
Men category
He is probably the most surprising rider of the year and obviously a rider with the most significant progress compared to previous season. Being a top three contender for the whole season long, Jan Charouz managed to collect 101 points to slip inside the top three. Jakub Kornfeil might be a fast guy with amazing physical strength. One thing he really missed this season – consistency. Not converting his speed into a race heats success prevented Jakub of getting the title and he finished second having scored 126 points under his belt. If anyone deserves to be named a phenomenal racer of the season, it definitely must be Lukáš Záhorský. He was amazingly fast and super consistent. That's a though combination to beat. His 156 points remain undefeated and Záhorský becomes the 2016 MotoSurf WorldCup champion.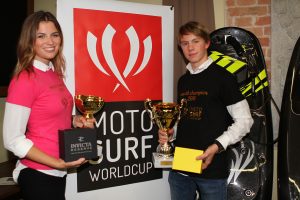 Ladies category
Prague Jetsurf Club's Martina Bravencová built her season up with consistent performances. She finished 3rd and made a promising base for the next year's campaign. Mexican rider Ale Rivas had a perfect start to the season. Unfortunately, she wasn't lucky enough to keep the pace up and took 2nd spot in the standings. Aneta Šacherová did it. Her domination in the second half of the series doesn't put any questions on the floor. Aneta's  three victories in a row are well enough to crown the Jetsurf Factory rider 2016 MotoSurf WorldCup Champion.