ZÁHORSKÝ & BRAVENCOVÁ GAIN 100 % OUT OF PRAGUE RACE
It might have been raining on Friday, but MotoSurf World Cup in Prague was an amazing JETSURF event. Lukáš Záhorský managed to close Sebastian Kubinec in the currect leading while Martina Bravencová extended her championship lead.
Heats gave us a tip who might bet the main contenders in the finals. Lukáš Záhorský, Sebastian Kubinec and Jakub Kornfeil were all on the top so we could expect close battles in the finals. Kornfeil suffered a technical issue while Kubinec crashed multiple times. That made a clear way to Lukáš Záhorský who scored a double victory to become an overall winner. Kubinec made it to 2nd and Petr Vencovský stepped up to 3rd for the third time already this season.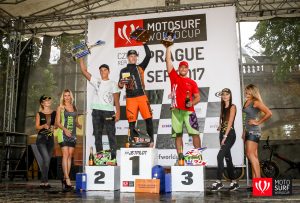 Symbio + Jetsurf Team's Martina Bravencová remained undefeated in her
 home round and dominated the whole weekend. Aneta Šacherová got 2nd and Petra Juříková took her first ever podium finish.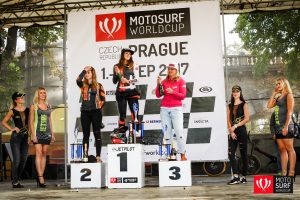 RESULTS: